Shady Parks in Flower Mound and Lewisville
The Texas summer is heating up! It's mid-July, the temperature is high and the kids are ready for outdoor play. If you're like most moms, when you're ready to venture to the park it's usually high noon, or later, when the sun is bright and the temperature is heating up quickly. This is the time you need a "shady" park. To clarify, by "shady" I mean parks with a lot of shade (not those of questionable reputation). In my experience most parks lack shade at this time of day making the equipment way too hot to play on. Bummer. Now explain that to your kids who are all too excited to release some energy.
Where's the shade in Flower Mound and Lewisville parks? Several parks in the area actually have shade over the playground equipment, which makes for a perfect park day, all day. Sometimes it just helps to know which ones and where they're located. I'll point out a few that I've found to be perfect for all day play.
Flower Mound School Playgrounds With Shade
Most schools have great playgrounds, and in the summer they are open all day for playing. I find these usually have the best shade. Here are a few, in Flower Mound, to check out this summer: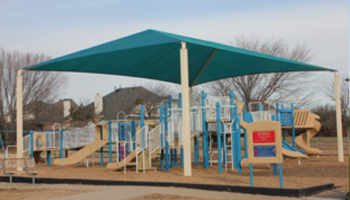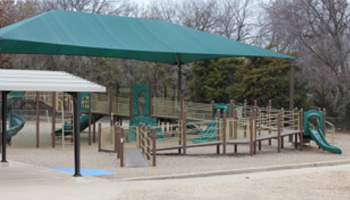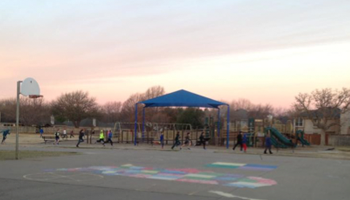 Sorry, this is the best picture I could find of this one. The point is it has shade!
Flower Mound Parks with Shade
There are a few parks in the Flower Mound area that either have shade or equipment that's ok to play on in the heat.
Heritage Park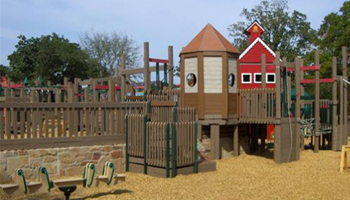 Heritage Park in Flower Mound is HUGE and has plenty for the kids. It covers the toddlers too. Toddlers have their own section with only one entrance to both. This way there's no escaping! Easy for everyone. Most of the equipment is not affected by the sun's blasting heat.
Bruce Lockhart Lions Club Park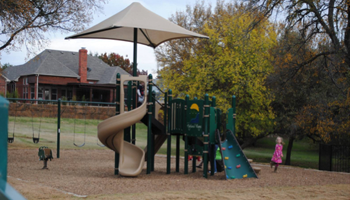 Bruce Lockhart Lions Club in Highland Village is a nice park that's a little smaller, and isn't completely covered. But, a little shade is better than no shade. The Bruce Lockhart Lions Club Park is a smaller park so it's easier to monitor the little ones.
Shadow Ridge Park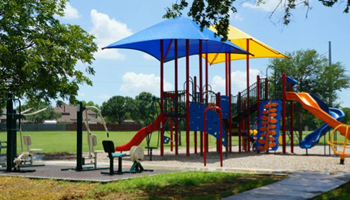 Shadow Ridge Park in Flower Mound. This park has two shade pavilions and something for the adults. If you're looking to work out or keep active while the kids play this park has inserted workout equipment right next to the playground. Double bonus for parents, although if the point of this list is to find some shade, you might be opposed to sweating it out in the sun.
Lewisville Parks with Shade
Lewisville has several fabulous parks to explore and play. Several of the Lewisville parks have plenty of shade from large trees. Yes, some of them large enough to shade the playground equipment next to it. Always a plus. There are also several with large shade pavilions for all day play.
Iris Lane Park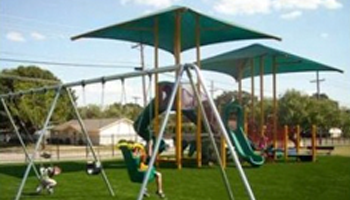 Iris Lane Park in Lewisville has the great shade pavilions over the playground. This park is next to a basketball court, if you have older kids who are a little too old for the playground equipment.
Reverend Alvin Turner Sr. Park
Rev. Alvin Turner Sr. Park (formerly known as Sycamore Park.) The entire playground is covered by a large shade pavilion, and close to a basketball court for the older ones.