Kitchen Island DIY Project
Special thanks to Megan for sharing this great DIY kitchen island project. I love the creativity that went into repurposing this old desk! Read Megan's step-by-step guide below for a little inspiration for your next project.
The Kitchen Decoration Dilemma
I've wanted a unique and custom kitchen island for a long time. However, finding the perfect piece became an impossible task. I enjoy having furniture in my house that is unique, which often leads me to large-scale refinishing projects that my husband hates. Luckily, I love crafty projects, and my husband is pretty handy when I need him to be. My intentions with my new kitchen island were to make it out of an old dresser, but apparently I'm picky and finding the right dresser was difficult (i.e. impossible). Then out of the blue we received a free office desk and it was perfect!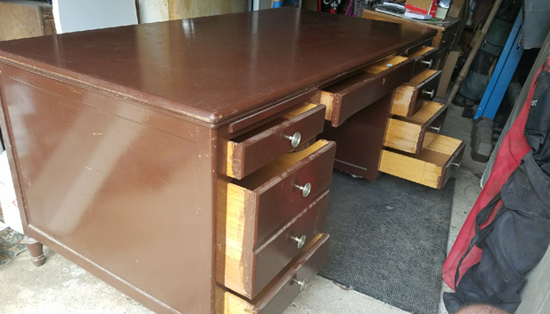 Above is the desk before our project began. To begin we trimmed out the original front, which was a plain solid piece with no trim or decoration. Because this is the side seen from the living room we dressed it up a little. Also, since we were using it as a kitchen island, my husband needed to make space for two bar height chairs that would give the kids room to sit and eat.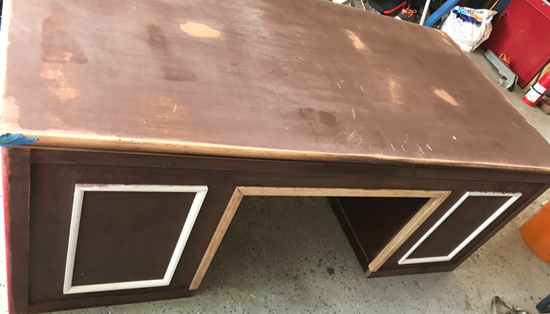 Next task: sanding everything. No fun but a crucial step in refinishing furniture. The best way to accomplish this was with a pad sander on the sides and belt sander for the top. In some of the more detailed spots around the trim we had to do it the old fashioned way by hand. Our plan was to distress the bottom and sand the top to the natural wood. Once we sanded the sides it was time to paint. This is my favorite part! The painting process is where I get to be creative.
I use spray paint as my base coat when I'm going to distress something. To make the entire thing even and the same color I first paint with a dark brown, paying close attention to the white trim that we added (we opted to save money and bought trim that was already primed). After letting the brown completely dry I sprayed on a coat of red. One coat is all it took. After coating with spray paint, we allowed everything to dry completely and went back to make sure everything was equally covered and we didn't miss any corners or edges.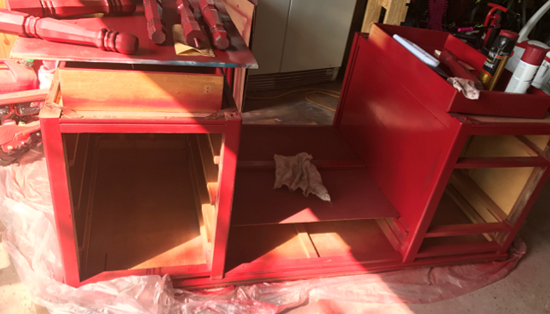 Now the distressing starts. To begin the distressing process, which is super easy, I used 100 grit sand paper to sand the entire thing focusing on the corners and allowing the wood underneath to come through.
We followed the same process for each drawer and all of our new legs. For the legs we bought premade table legs at Home Depot. We needed to raise the island to bar height for our stools. Pre-made legs are the easiest way to add some personality, but we had to customize them a bit to ensure they would support the weight of the desk. The legs came with bolts installed that were only about ¾" long. This wouldn't work for our intentions, so we bought a 4-foot long ½' threaded rod, cut them into 8" pieces, then drilled 4" holes into both the legs and the bottom of the island. We then used ½' barrels to screw into the bottom of the desk and glued the rods inside the legs. This gave us a stout rod that would connect the legs to the desk and provide more stability.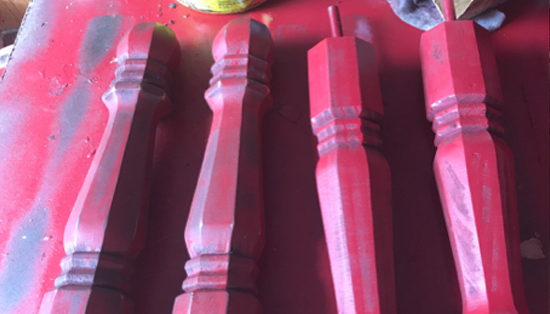 After the sanding process we coated the entire desk, including drawers and legs, in furniture wax. A little trick I learned years ago is to mix wood stain and furniture wax. This gives the furniture a dark antique look; depending on how dark the stain you mix with. I chose a dark walnut stain. With an old rag rub each piece with the wax mixture. This process is done as many times as needed according to color preference.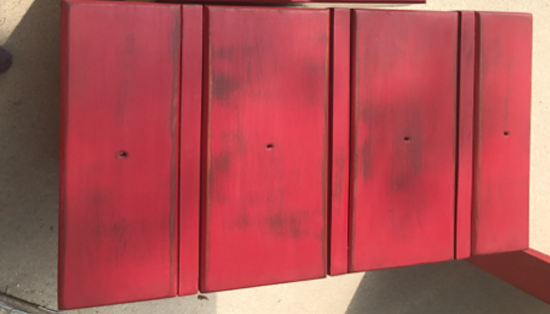 After allowing all pieces to dry completely, it's time for the final process for the bottom. The last step with painting was to coat all of our newly distressed surfaces with polyurethane. For ease and to speed up the process I chose to use the polyurethane spray paint. One to two coats will work. Because I prefer the matte look over the glossy I used a silk finish polyurethane to accomplish this. If you're new to spray paint, be sure to watch your over spray, or you'll end up with some painted items in your garage (our garage freezer looks a little funky after many similar projects).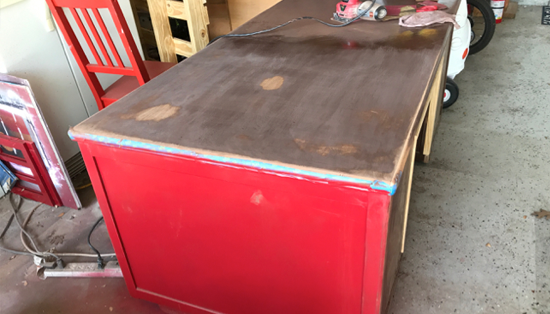 The next process is the wood top. We sanded the top down to its natural wood. Because we are not painting this, but staining it, sanding it completely to the wood is important for a beautiful finish. After sanding to the natural wood we coated with our choice of wood stain. One coat did perfect for us. Again, this is done as much as needed to your color preference. After allowing it to dry overnight we did a light sanding on the top beginning with 100 grit sandpaper and moving to more fine options with each coat. After the first light sanding the top was coated with cutting board oil. Here is where we did something different than most. I, again, prefer the matte look, so we did not use the hard high-gloss shellac most people will use for wood counter tops. We chose to make it like a cutting board top. So after sanding lightly and coating with oil 3-4 times, allowing to dry over night or at least 8 hours each time, we were ready to bring it in. (Pro tip: each time you sand between oils, increase the grit count. By the end of the top we were using 2,000 grit sandpaper. This ensures that your top is completely waterproof.)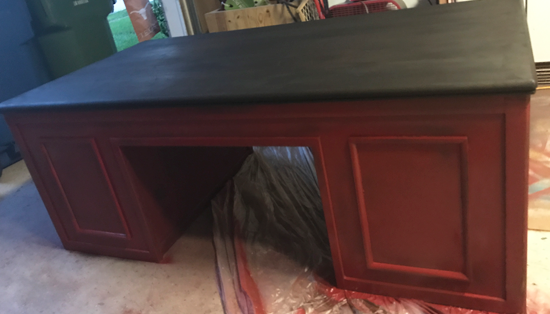 Before placing the legs, we brought it in the kitchen. A quick trip to pick up some discount cabinet hardware, and we were all set. Here's the finished product: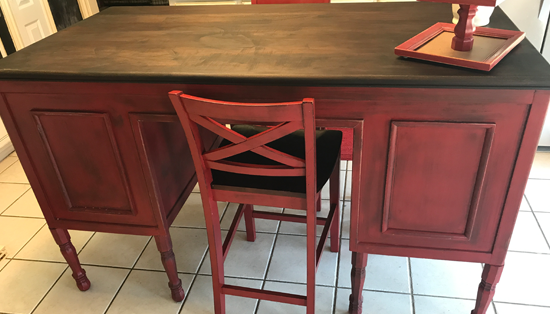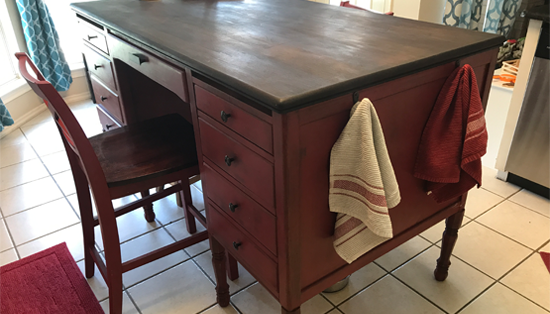 The drawers to the right were removed except for the bottom drawer to create a hidden cabinet trash bin. We just cut off the drawer faces, and the face frame between each drawer and then tied them all together to make one large face that looks like multiple drawers. The drawers on the left are all functional and give so much storage space to the kitchen. We placed chairs on each side of the desk for us to use it as a table as needed. I couldn't be happier with the results. The desk originally had extensions on each side of the chair space that could slide out for more writing space, that we will be replacing with smaller cutting boards for a little extra working space for those big family meals and holidays.
Next time you start to pass that old piece of furniture left at the curb, you might want to take a look and see if there are any creative uses that might breathe new life into your home. Fair warning, my husband isn't always thrilled to find new furniture in the garage, but he he's never complained once the piece is finished and we have a great new addition to our home without investing a lot of money.
Looking for a great Flower Mound real estate agent to help you sell your DFW home? Give me a call at (972) 974-1375 and let's talk. Now's a great time for sellers in North Texas.